News
September 2021 - Curb Appeal and Patriotic Display
Edgewater just got even prettier and more patriotic. US flags and custom designed and manufactured Edgewater flags have been installed at all 3 entrances as well as at the Pavilion.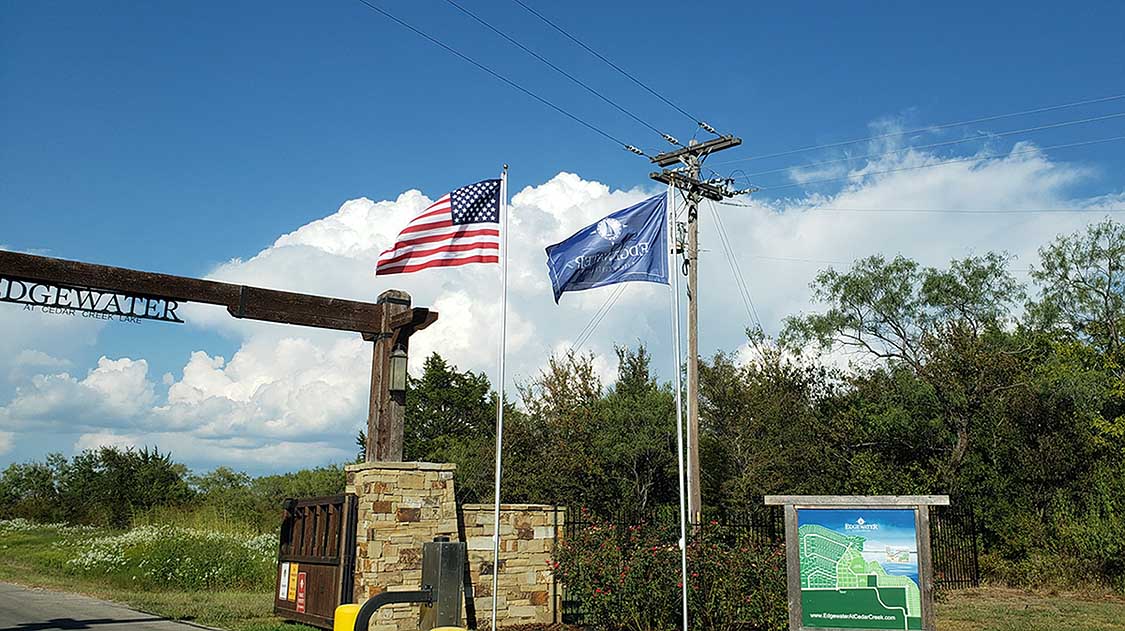 August 2021 - Added Security at the Entrances
Even though Edgewater is a gated community with gates and clearly marked "PRIVATE PROPERTY - No Trespassing" signs, it seems that some people can't read signs, nor understand the meaning of gates. Consequently, we kept running into people that walked around the gates and trespassing. When confronted by a resident of even the police, they almost all claimed that they went around the gate because there was an "opening" by which they walked, rode their bikes, or even drove their vehicles. To stop such behavior, new fences were added on either side of each of the 3 entrance gates in an effort to make trespassing a much harder task.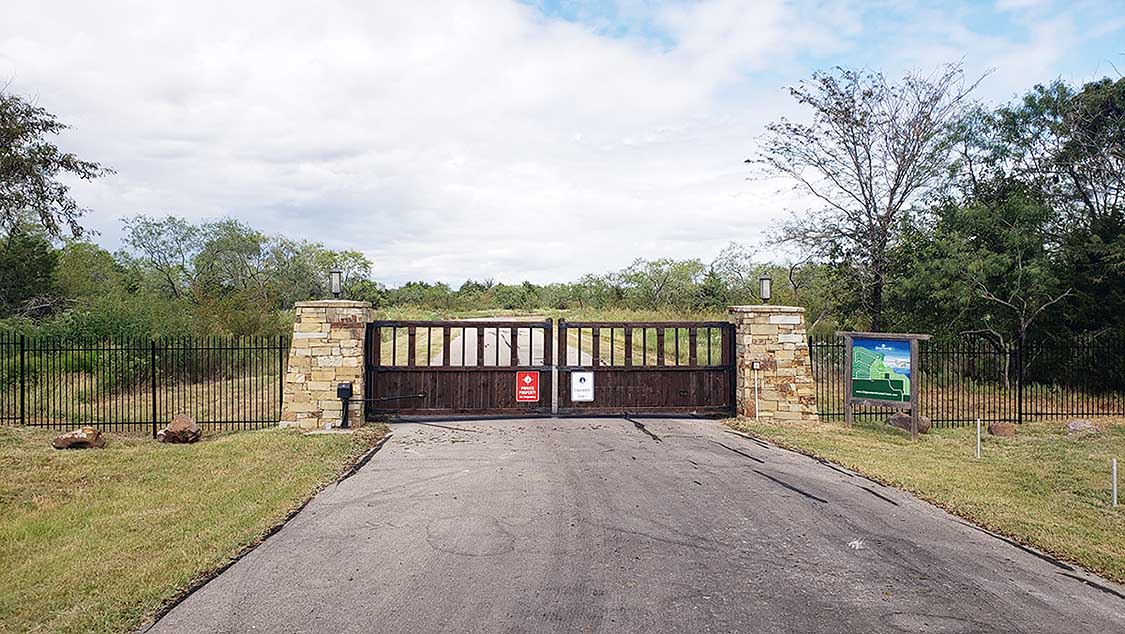 July 2021 - Main Entrance Curb Appeal
After the historic cold and icy weather we endured this past winter, the two flower beds at the main entrance required attention and some much needed TLC. However, this project was put on hold until we were able to find a contractor that would repair the sprinkler system which were also in need of fixing. After all, there is no point of fixing the flower beds if we can't water the plants they contain. Any money that would be spent on that project will very quickly go to waste as the plants would most likely not survive the Texas summer heat.
Thank God, we finally found someone that was able to fix the sprinkler system. Once we had proper irrigation, we had the flower beds cleaned, the rose bushes pruned, the weeds pulled out, and all the dead plants that didn't make it through the freeze disposed. Then, everything was raked, and the soil was leveled. Finally, new mulch was laid to complete the project. As pretty as those flower beds look right now, the project is not over yet. We plan on having annual flowering plants added every season.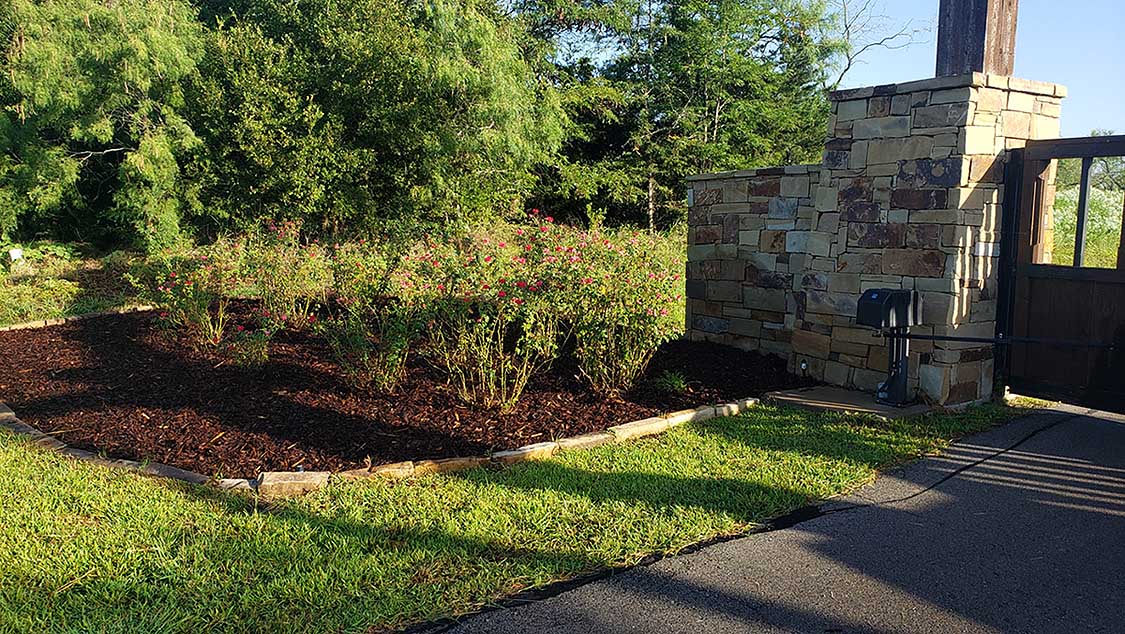 June 2021 - More seating at the community pavilion
The developer provided 2 picnic tables for the pavilion. As cute as they were, they were not sufficient for a large gathering (as we found out in our last general meeting). Therefore, 2 more matching picnic tables were purchased, and stained, and so was the boat dock. We hope this fresh, new, coat of stain, not only is more appealing, but also will provide years of protection against the weather.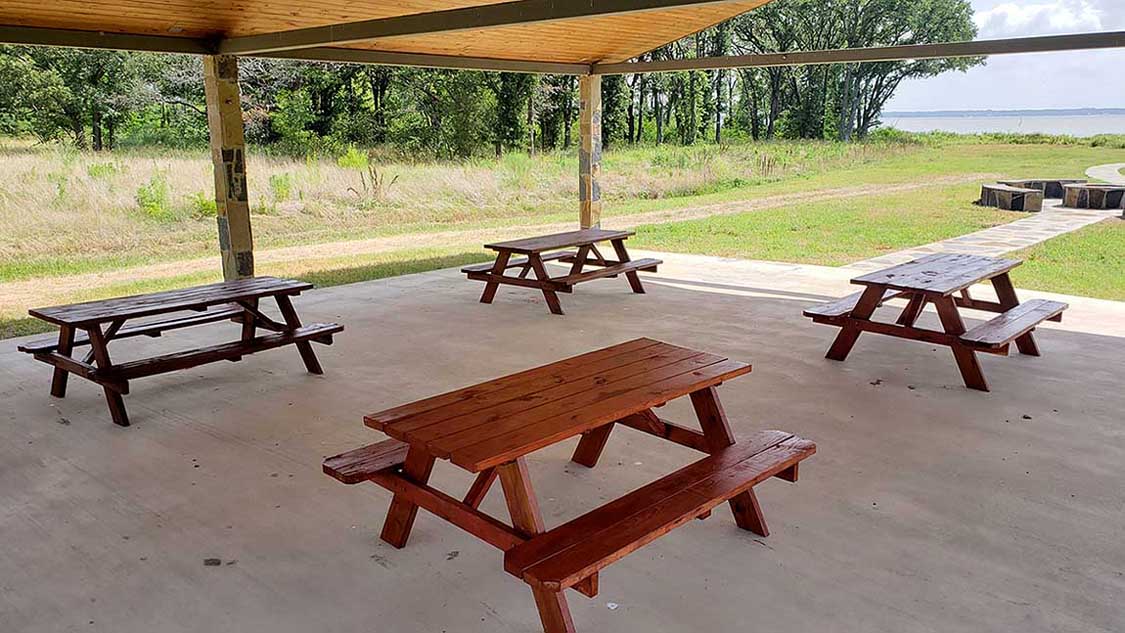 May 2021 - New Address Maps
You provided us with your feedback, and we listened. Many Edgewater visitors had difficulty finding their destination and winded up driving all over before they gave up, stopped in frustration, and called someone for directions. Therefore, new address maps were installed at each of the 3 entrances. Now, simply stop at the gate, look for the property you need to find, dial the gate code, and quickly find your way around the subdivision.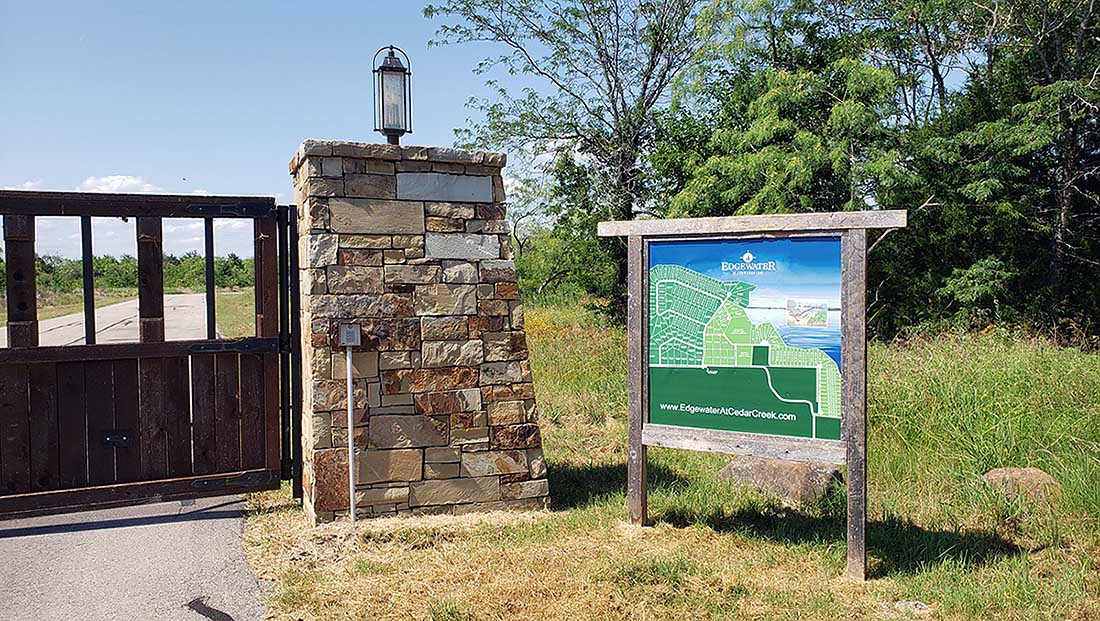 April 2021 - Road Repair
The roads at Edgewater had started to show some cracks and it was becoming clear that those cracks in the asphalt needed to be repaired before they got worse. Therefore, all cracks were blown, cleaned out, and filled with hot tar. Wider cracks were filled with hot asphalt mix.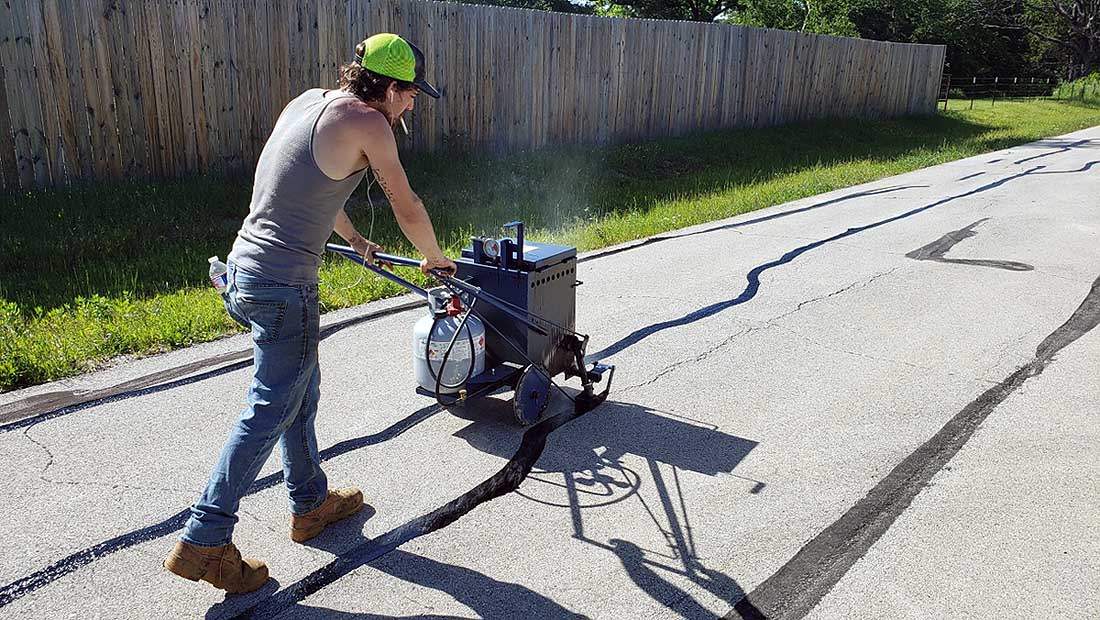 March 2021 - New Street Posts and Signs
The signs that the developer had installed a couple of years ago were very small, non reflective, single-sided, with a small font that didn't meet road sign standards. Moreover, there were installed on 6-foot poles. They didn't look pretty nor conveyed the message of "welcome to our luxury waterfront subdivision". Therefore, it was time for a face lift. New street signs were ordered to meet road standards; the Edgewater logo was added to those double-sided, reflective signs; and new sign posts with bases and finials were purchased. All were installed this past weekend along with the "STOP" signs. What an improvment!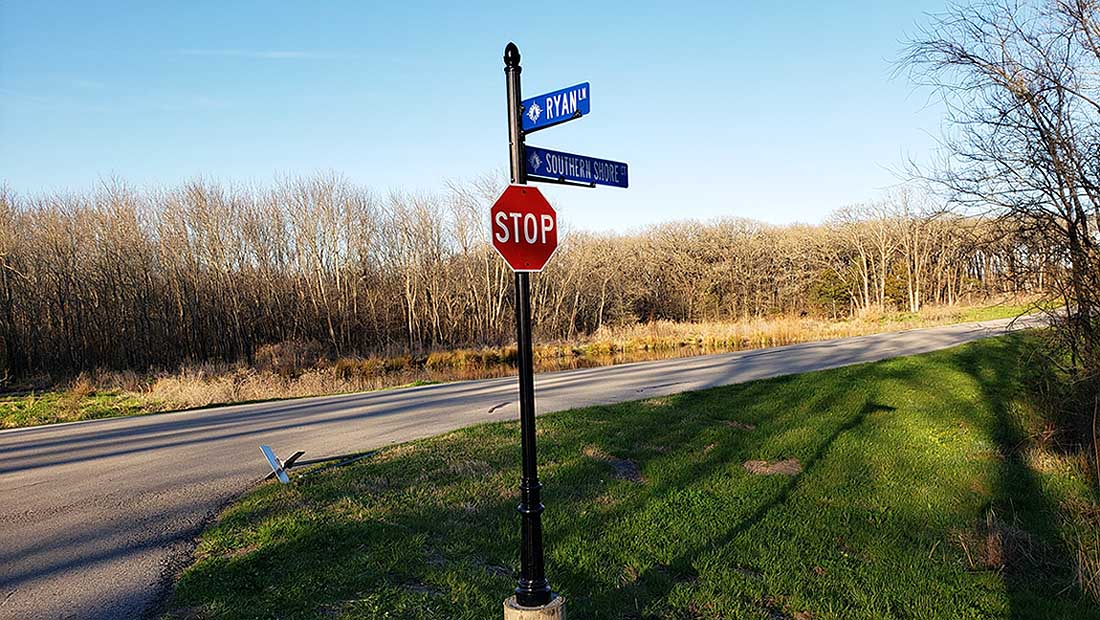 February 2021 - Dog Waste Stations
As more people build homes in the subdivision and live there, and more people come to check on their property, many are enjoying the outdoors and taking hikes. Some even want to take their dogs with them. But like everywhere else, residents of Edgewater need to pick up after their pooches. To make that task easier to accomplish, 3 dog waste stations were installed. One on the corner of Edgwater Dr. and E. Shoreline Ct; one on Southern Shore Ct. between the 2 hiking trails; and one in the community pavilion park. Help us keep Edgewater clean of dog waste, and please clean up after you dogs!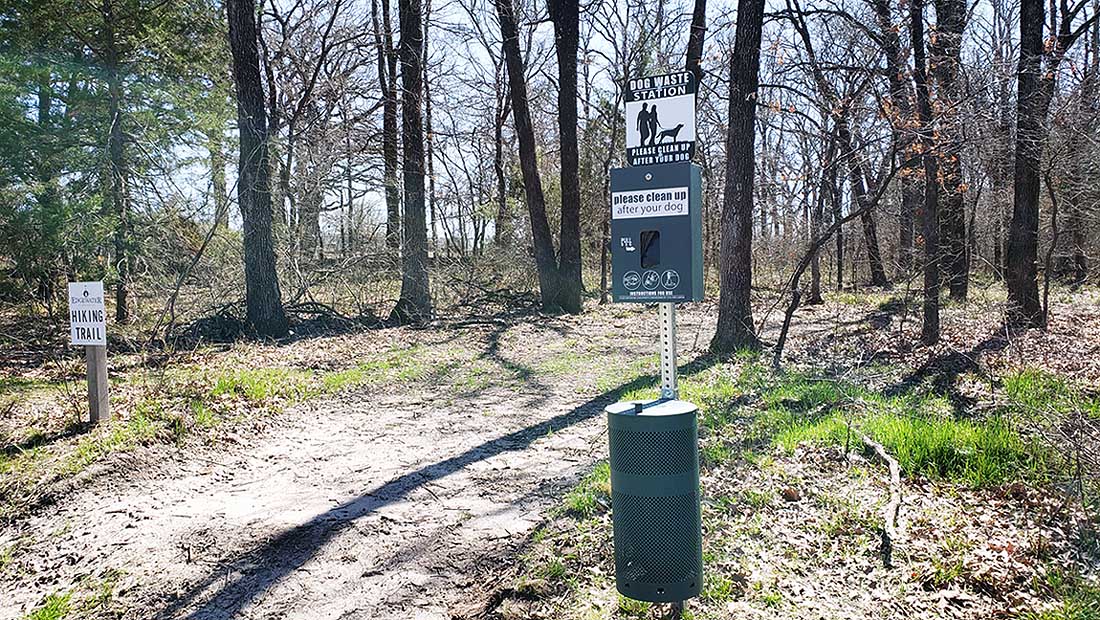 November 2020 - Annual meeting
Edgewater was scheduled to have its annual meeting in October, but because of the weather and a lack of quorum, the meeting had to be rescheduled for November. The second time was a charm and the meeting occured on 11-14-2020.
Several property owners joined in person at the community pavillion where Pizza, doughnuts and water was served. Several others joined virtually on a GoToMeeting call.
The new property management was introduced to all attending members. The budget was presented. The new entrance gates code was given. All members were reminded to log in to our portal to get all important documents, news, and meeting schedules, and minutes. Then, a quick presentation by the HOA president followed. Finally, the members casted their ballots in the election to fill a vacant board member position. Two candidates were on the ballot. Chris Redmond was the winner. Congratulations Chris!
September 2020 - New Property Management Company
Edgewater got a new property management company, Texas Star Community Management. With this change, the Resident's Portal also changed to TownSq. To pay your dues, see if you have a violation, check upcoming board meetings, or read recent board meeting minutes, all you need to do is click on the Resident's Portal button on the top right of this webpage (and all webpages on this website).
Moreover, you should have received an introductory letter from Texas Star. The letter was dated August 24, 2020. The letter provides you with all the information that you need. If you didn't get your letter already, please contact us at your earliest convenience.
July 2020 - New Stop Signs
With several streets intertwining, the need for safety on the road became a top priority at Edgewater. Therefore, 6 stop signs were added at every intersection in order to direct traffic in a way similar to that of public roads.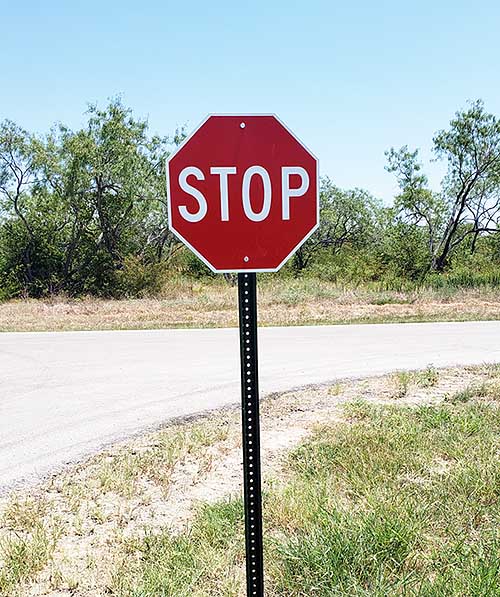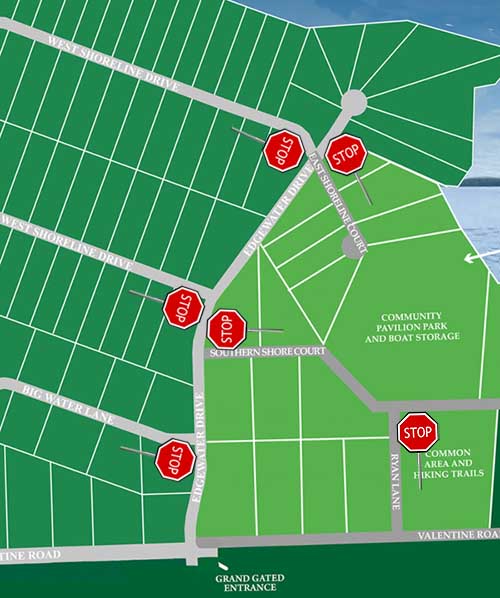 June 2020 - New Entrance Signs
With 3 entrances to the subdivision, people had different names for each gate. Some used "1st", "2nd", "3rd". Others used "the Main gate", "the other one". Some used "East", "West", "Middle". Some didn't even notice one of the entrances altogether and counted wrong. In an effort to standardize the nomenclature, new signs have been placed at each gate.
Moreover, with the roads in Edgewater being private (owned and maintained by the subdivision), there was a need to post such information in order to inform the general public that these roads are not "public". Hence "Private Property – No Trespassing" signs were also placed at each gate.
Finally, with more homes being built in the community, more construction trucks were going in and out of the subdivision. In an effort to direct residents' and guests' traffic to the Main gate (aka "Gate 2"), which has the call box, and contractors constructions trucks to gates 1 or 3, another sign was placed at Gate 2 in that regard.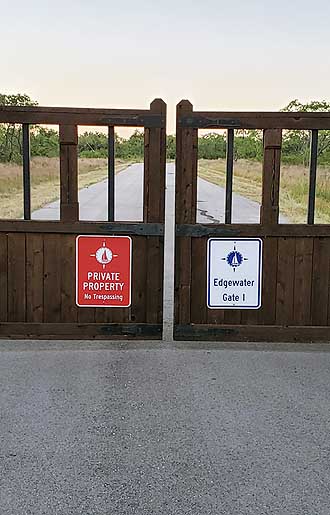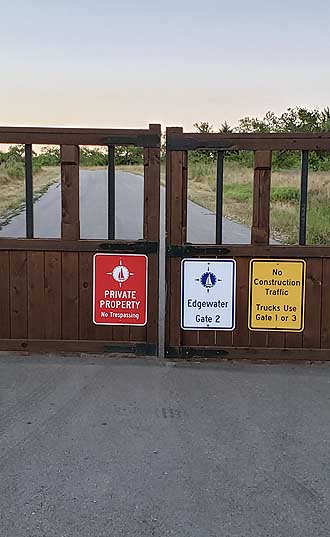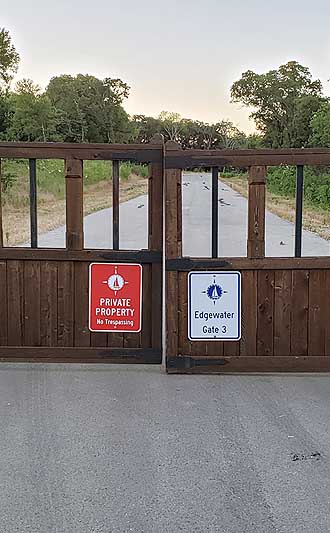 April 2020 - Widening of the main entrance
The main entrance previous upgrade, namely the new Call box, reduced the width of the road and the turning radius of entering vehicles. As a result, the roadway was widened by several feet to make it easier for drivers to safely approach the main entrance and use the call box.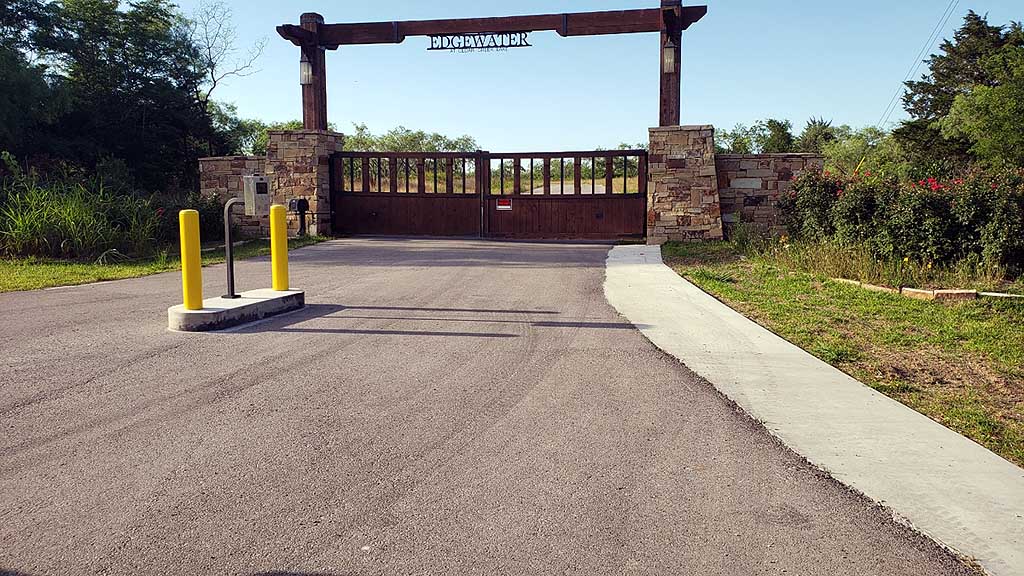 February 2020 - New Call Box
The gate at the main entrance got an upgrade. A new call box has been installed and moved to the middle of the road. The call box allows Edgewater's visitors to search for a resident's name and call them directly. The resident in return can buzz the guest in using their phone, or the call box's cell phone app. Moreover, the new location allows the user to roll down their window and use the call box box without having to get out of their vehicle, walk across the road, step in the flower bed to use the old dial pad.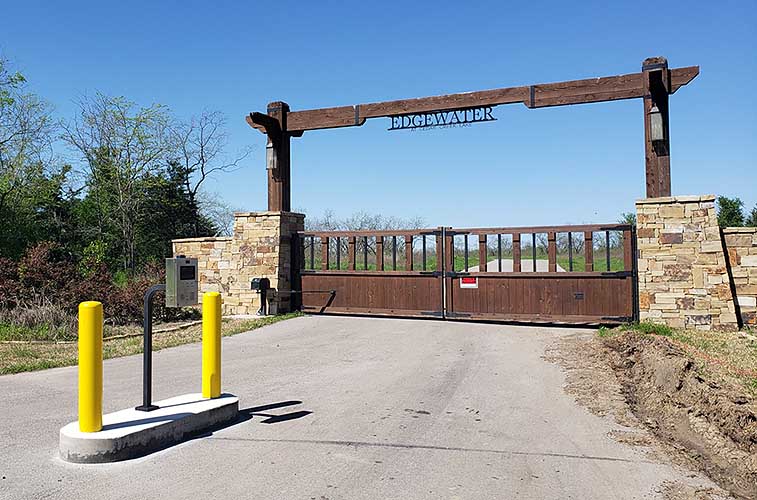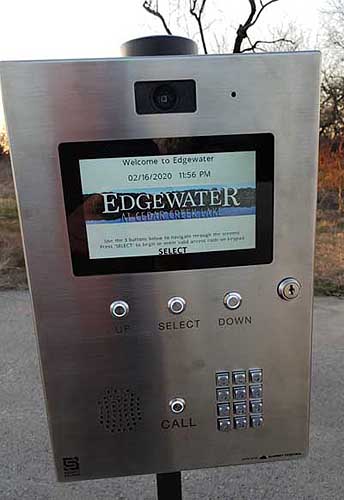 January 2020 - First Home at Edgewater
On January 1st, 2020, the first home at Edgewater was completed and its owners Kelly and Elie became the first residents at Edgewater. We look forward for more homes to be built and more residents to call Edgewater "home".