About Edgewater
Edgewater at Cedar Creek is a gated community of 148 luxury lots (63 water front lots and 85 water access lots). It is set on 249.71 acres with over 9,000 feet of water frontage and 3.6 miles of roads. Edgewater sits on the fourth largest lake in Texas, Cedar Creek lake. It is located about 45 minutes southeast of the Dallas/Fort Worth metroplex. The short drive combined with the option for private boathouse ownership makes it popular among visitors, "weekenders" and permanent residents alike.
▪ Homes are to be single family, and of site built construction.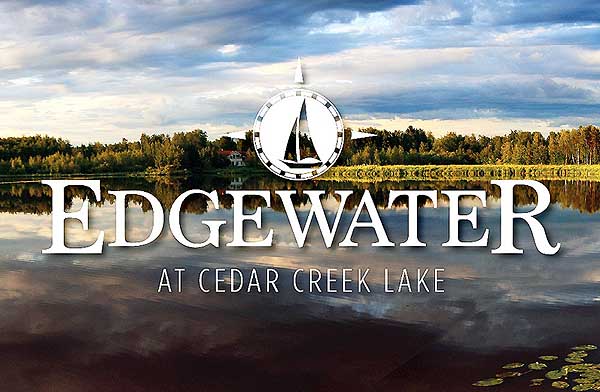 ▪ No vacation rentals (VRBO, Airbnb, etc.) are permitted.
▪ No mobile homes are permitted.
▪ One guest home or outbuilding is permitted.
▪ Lake front homes are to be a minimum of 1,800 square feet.
▪ Lake access homes are to be a minimum of 1,400 square feet.
▪ There is no time limit to build.
▪ There are no manadatory builders or model homes. You choose your own builder and contractors.
▪ All lots shall have a minimum finish floor elevation of 327.00' which is 3' above the 100 year floodplan WSE of 324.00'.
▪ Private boat docks and lawn irrigation pumps are permitted.
▪ Waterfront lots represented as "dockable" meet the current Tarrant Regional Water District requirements.
▪ Hunting is not permitted on any lot or common areas.
▪ Household pets are permitted. No farm animals may be housed on any lot or common areas.
▪ No commercial timbering is allowed on any lot. Clearing for homesites and views is permitted.
▪ All lots within Edgewater shall pay annual dues of $500 to the property owners association to cover maintenance of the roadways, entrance, common areas, and general operating expenses. Multiple lot owners pay only one set of HOA dues for up to three homesites.
▪ Upon the issuance of a building permit for a Residence to be constructed on a Lot, the Owner of that Lot shall pay to the Association, as an additional one-time Assessment, a road impact fee in the amount of $2,500.00 (the "Road Assessments").
Please note that, before you start building any structure, you will need to fill the Architectural Control Committee Application, and mail it to the Architectural Control Committee for review and approval. This provess may take up to 30 days. If improvements are made before your application is approved, you will be asked to remove them immediately.
Click here to download a fillable PDF of the Architectural Control Committee application.