News from 2021
December 2021 - New Trails with New Signs
The original two trails were cleared, widened and made more usable with the addition of culverts to cross the ditches. Then, three more trails were created. Finally, signs were added on each end of each trail to mark its name and its lenght. Moreover, each trail was marked with a small colored arrows that are displayed on the sign itself, but also every few yards on a tree along the trail.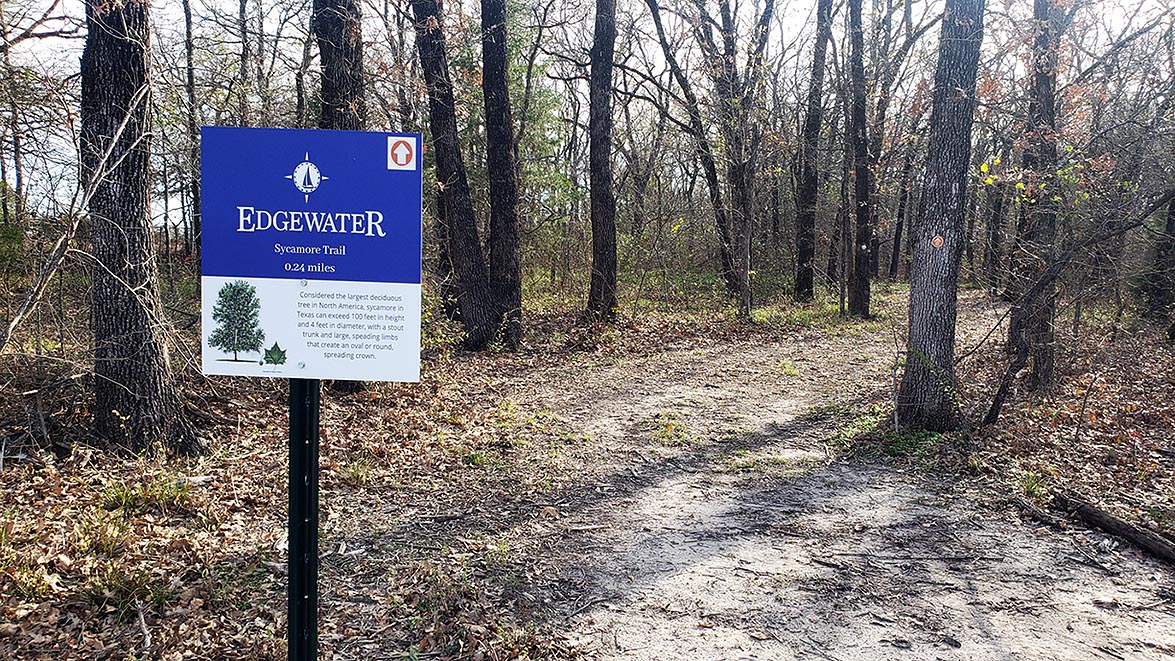 November 2021 - Landscaping lights at the Entrances
The entrances just got prettier and safer at night with the addition of several landscaping lights.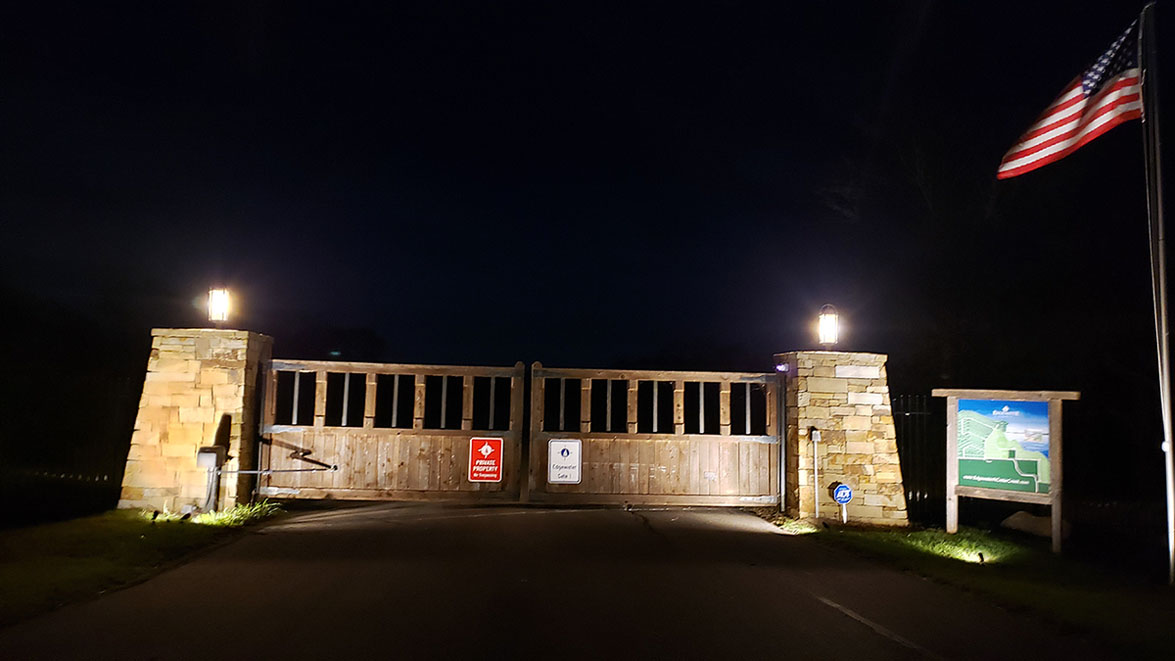 October 2021 - Annual General Meeting
Edgewater held its annual general meeting on Saturday October 23rd, 2021. Several members attended in person and several more sent their ballots/proxies by mail. Food and beverages were provided for all those who were present. After a brief introduction by the president, the minutes of last year's meeting were read, reviewed, amended, and approved. Next on the agenda, was the Election of the boards of directions. Three of the board members were up for election this year. The incumbent president and two new members won a 2-year new term. The account manager was next. She gave the financial review and answered questions from the attendees.
The new club house project was announced via a 3-D rendering video that has been uploaded to Edgewater's YouTube's channel. The upcoming CCRs amendments were announced afterwards. Please be on the lookout for further information and a ballot which will be heading your way soon. We need your participation in this VERY IMPORTANT online election. Then after, the old street signs were given away on a first come, first served basis. Finally, the new gate code to be used on all entrances was announced. It will take effect on Monday, November 1st, 2021. The new code will be emailed in the next couple of days to all members who were not able to attend the meeting.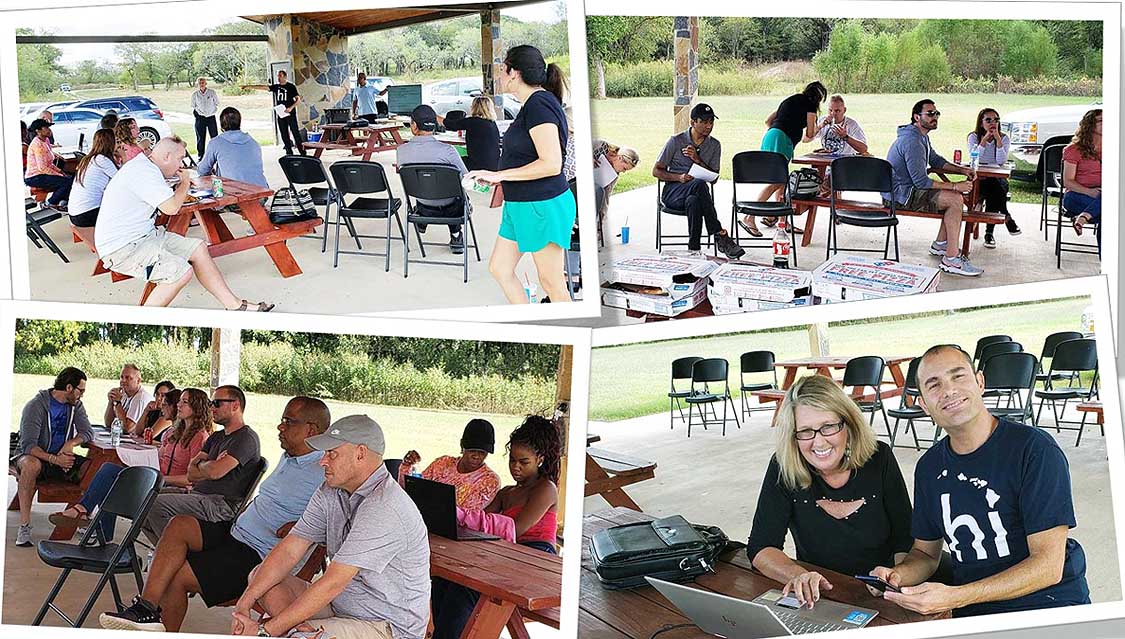 September 2021 - Curb Appeal and Patriotic Display
Edgewater just got even prettier and more patriotic. US flags and custom designed and manufactured Edgewater flags have been installed at all 3 entrances as well as at the Pavilion.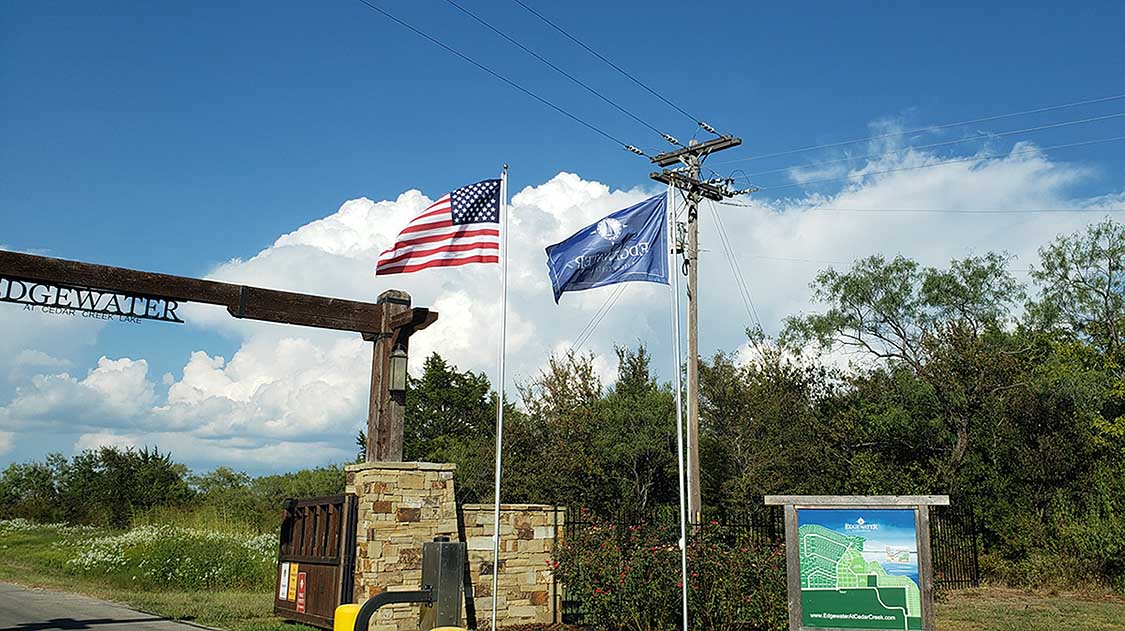 August 2021 - Added Security at the Entrances
Even though Edgewater is a gated community with gates and clearly marked "PRIVATE PROPERTY - No Trespassing" signs, it seems that some people can't read signs, nor understand the meaning of gates. Consequently, we kept running into people that walked around the gates and trespassing. When confronted by a resident of even the police, they almost all claimed that they went around the gate because there was an "opening" by which they walked, rode their bikes, or even drove their vehicles. To stop such behavior, new fences were added on either side of each of the 3 entrance gates in an effort to make trespassing a much harder task.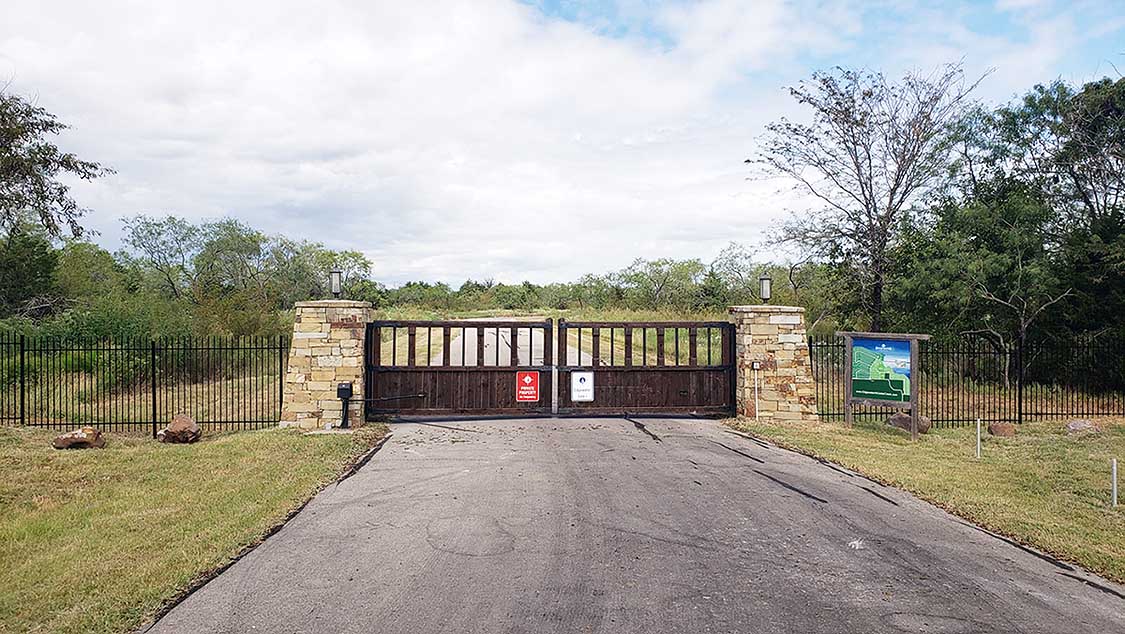 July 2021 - Main Entrance Curb Appeal
After the historic cold and icy weather we endured this past winter, the two flower beds at the main entrance required attention and some much needed TLC. However, this project was put on hold until we were able to find a contractor that would repair the sprinkler system which was also in need of fixing. After all, there is no point of fixing the flower beds if we can't water the plants they contain. Any money that would be spent on that project will very quickly go to waste as the plants would most likely not survive the Texas summer heat.
Thank God, we finally found someone that was able to fix the sprinkler system. Once we had proper irrigation, we had the flower beds cleaned, the rose bushes pruned, the weeds pulled out, and all the dead plants that didn't make it through the freeze disposed. Then, everything was raked, and the soil was leveled. Finally, new mulch was laid to complete the project. As pretty as those flower beds look right now, the project is not over yet. We plan on having annual flowering plants added every season.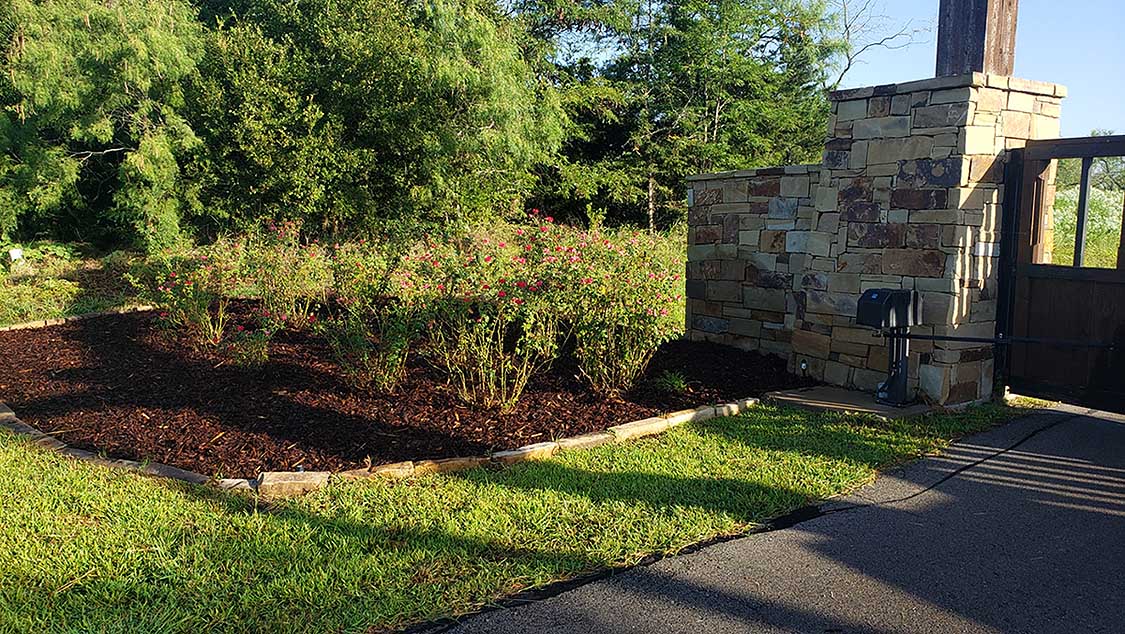 June 2021 - More seating at the community pavilion
The developer provided 2 picnic tables for the pavilion. As cute as they were, they were not sufficient for a large gathering (as we found out in our last general meeting). Therefore, 2 more matching picnic tables were purchased, and stained, and so was the boat dock. We hope this fresh, new, coat of stain, not only is more appealing, but also will provide years of protection against the weather.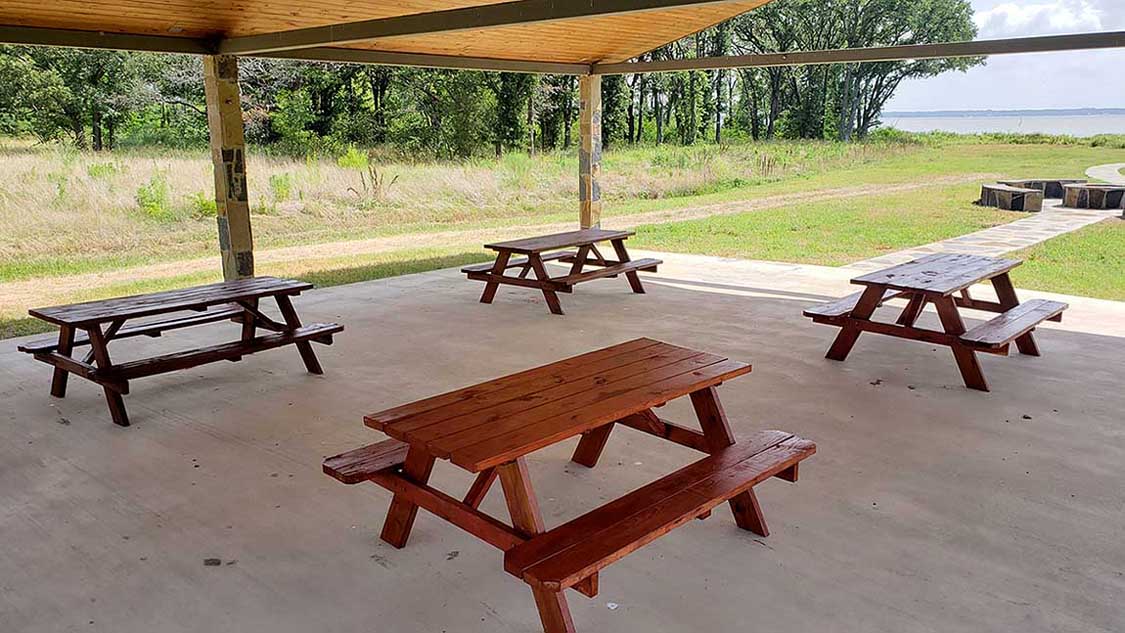 May 2021 - New Address Maps
You provided us with your feedback, and we listened. Many Edgewater visitors had difficulty finding their destination and winded up driving all over the subdivision before they gave up, stopped in frustration, and called someone for directions. Therefore, new address maps were installed at each of the 3 entrances. Now, simply stop at the gate, look for the property you need to find, dial the gate code to open the gate, and quickly find your way around the subdivision.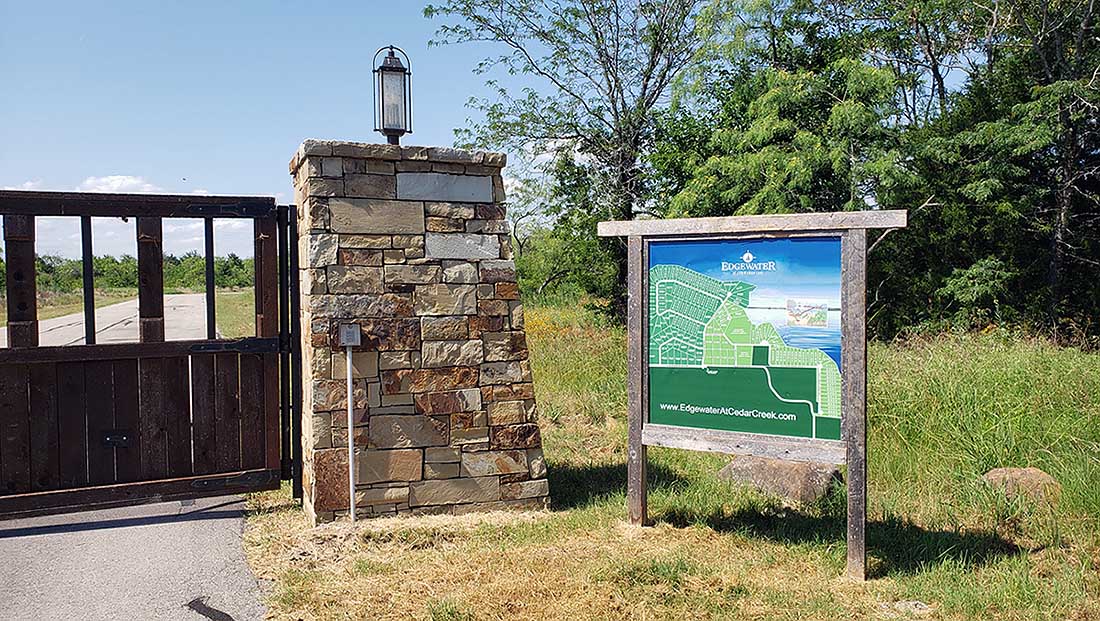 April 2021 - Road Repair
After 4 years, the roads at Edgewater had started to show some cracks and it was becoming clear that those cracks in the asphalt needed to be repaired before they got worse. Therefore, all cracks were blown, cleaned out, and filled with hot tar. Wider cracks were filled with hot asphalt mix.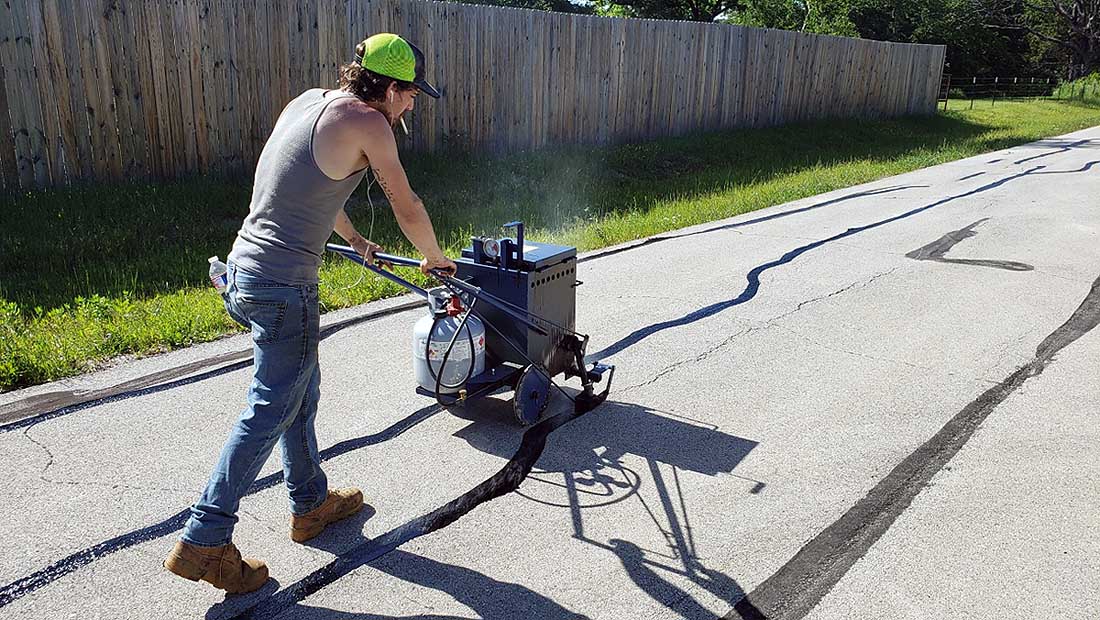 March 2021 - New Street Posts and Signs
The signs that the developer had installed a couple of years ago were very small, non reflective, single-sided, with a small font that didn't meet road sign standards. Moreover, there were installed on 6-foot poles. They didn't look pretty nor conveyed the message of "welcome to our luxury waterfront subdivision". Therefore, it was time for a face lift. New street signs were ordered to meet road standards; the Edgewater logo was added to those double-sided, reflective signs; and new sign posts with bases and finials were purchased. All were installed this past weekend along with the "STOP" signs. What an improvement!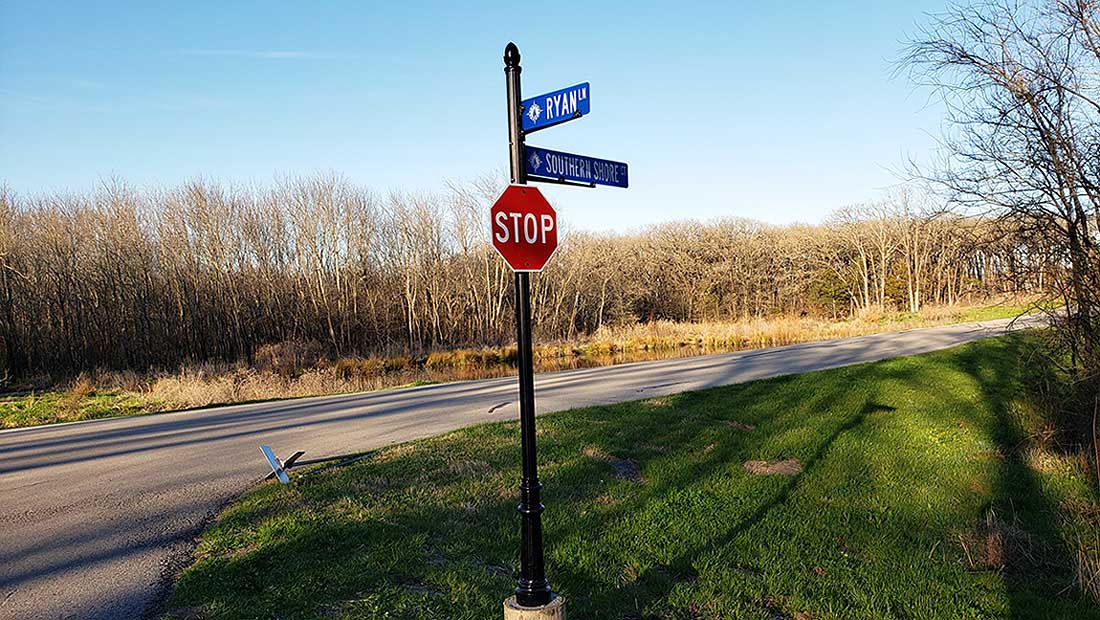 February 2021 - Dog Waste Stations
As more people build homes in the subdivision and live there, and more people come to check on their property, many are enjoying the outdoors and taking hikes. Some even want to take their dogs with them. But like everywhere else, residents of Edgewater need to pick up after their pooches. To make that task easier to accomplish, 3 dog waste stations were installed. One on the corner of Edgwater Dr. and E. Shoreline Ct; one on Southern Shore Ct. between the 2 hiking trails; and one in the community pavilion park. Help us keep Edgewater clean of dog waste, and please clean up after you dogs!